July 2011 Vintage Cigar Auction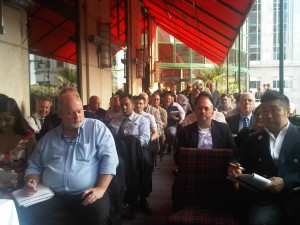 Our summer cigar auction was held on a very sunny and warm evening at Boisdale Canary Wharf and a great evening was had by all !
Starting off with a whisky tasting hosted by Ron Morrison of Robert Graham Ltd and featuring 5 of our range of award winning single malt whiskies. These were matched up with some splendid English Market Selection Juan Lopez seleccion no.1, San Cristobal La Fuerza and Punch Punch
Brian Ebbesen conducted the auction to a jam packed cigar terrace of over 80 cigar aficionado's, connoisseurs and collectors. Despite the venue being noisier than our usual Boisdale Belgravia auction venue Brian managed to hear all of the bids and knock down all but 16 of the 259 Lots entered in the sale. 94% sale rate was a very satisfactory result.
A good range of limited editions, pre embargo. mature, Davidoff and Dunhill cigars were offered and clearly some prices were great value whilst others were higher than expected
Dinner followed with fabulous music by Manolo and the Gypsies. The food and service at Boisdale was top notch as always.
We also launched the superb Fuente brand of cigars in the UK at the dinner following the auction and were delighted to welcome Josh and Jeremiah Meerapfel to our event.
Josh took apart an Opus X double corona (!) demonstrating that 10 leaves made up the filler of this delicious cigar. Guest were all treated to an Opus X DC on the cigar terrace after the dinner.
5.30 pm:
whisky and Havana cigar tasting hosted by Mitchell Orchant of C.Gars Ltd and Ron Morrison of Robert Graham Ltd, featuring Seleccion Orchant Havana cigars and award winning Robert Graham single malt whiskies.
6.30 pm:
Champagne, cocktails and canapés followed by Cigar auction conducted by Brian Ebbesen.
8.30pm/9.00 pm (approx.)
Dinner (exclusive for 50 guests of C.Gars Ltd) and live music from
Manolo & The Gypsies
(from the original line up of the Gypsy Kings) in in the restaurant and cigars and drinks on the terrace till late.
We had a great crowd including Julian Dicks ( great footballer and cigars smoker!) Simon Chase from H&F, My business partners, Ron Morrison from Robert Graham Ltd, Christoph Wolters from La Casa del Habano – Hamburg and Guy Hancock from the Decent Cigar Emporium – Dublin.
My thanks to Brian Ebbesen for such a marvellous auction, Ranald from Boisdale for all his support, my wife Karyn for table plan organization ! my daughter Tasha for her photography skills ! and of course Michelle and her London Team for all the administration and Laura and her Norfolk Team for all their hard work on the Auction website.